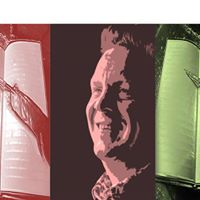 The Writers Bookshelf first broadcast back in June 2016 on Drystone Radio, after David Driver had himself been a guest in February of the same year. He was given a platform to showcase his own writing talents through local community radio and was asked if he`d like to broadcast his own show; that was the beginning.
Right from the start the ethos of the show has been to provide a platform and voice for local writing talent to express their creativity and imagination; David wanted to inspire others to write.
The Writers Bookshelf has welcomed the continued support of Bradford Libraries and has broadcast a number of live events at libraries across the area which has once again, allowed the writing talent to showcase their work and forge new friendships within the world of writing and community radio. Drystone Radio, The Writers Bookshelf has also been part of `Bradford Festival` and `Settle Stories`. These two events have been a mixture of live and recorded broadcasts and have helped to further strengthen the show`s support. The Romantic Novelist Association have also featured on the show, which allowed Drystone Radio to broadcast from York.
Bradford Libraries in particular have been, and still are, very supportive with local writing talent and have offered rooms at many locations for pre – recorded interviews when guests have been unable to make it to the studio for the live show.
Over the years many guests have appeared on the show, shared their work, grown in confidence and achieved greater goals.
Live broadcasts have also taken place in David`s home town of Silsden. These include a broadcast from St James Church where funds were been raised to help children in Sierra Leone. Local school children were invited to share their stories. School children and adults have also taken part in Christmas and Halloween themed shows. These took part in David`s studio where stories penned on the day were shared live on air.
David has also attracted the attention of others further afield; Doncaster, Derby, South Shields and Birmingham are just some of the places he`s travelled to in order to meet more talent within the world of writing and record an interview. This prompted `The Travelling Bookshelf`. The show has even gained attention in the USA. Sadly David did not travel there in person, only via telephone.
In July 2023, the show moved to a podcast format using Podbean as its platform. Please visit https://www.podbean.com/site/search/index?v=The+Gingerlicious+Company
The show continues with passion, pride, imagination, creativity and drive in order to give a continuous platform and voice to writers who love to weave their words through community radio. Many friendships have been forged and success stories enjoyed through the medium known as local radio and David shows no signs of hanging up his microphone just yet.
If you`d like to be a guest on the show, please get in touch.